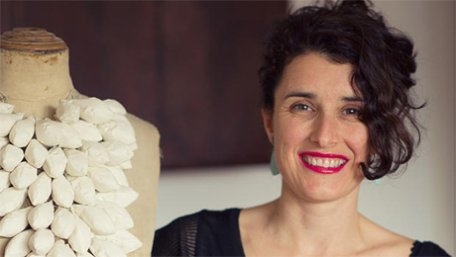 Like all artists my intentions in jewelry are sometimes simple, finding beauty in a deep sense. The jewel dialogues with aspects of value, supported by other factors that currently seem volatilize. Pieces made with time, human time and full humanity, and trying to talk about the thoroughness of this world of jewel, talks things thought to find that point where everything harmonizes.
Biography
(Santa Cruz de Tenerife, 1972). Actually she lives and woks in Santa Cruz de Tenerife. Studies of Arts, Sculpture speciality in La Laguna University in Tenerife. Studies of Contemporary Jewellery at Escola Massana in Barcelona. Teacher in the department of Jewellery of Escola Massana in Barcelona, and in Taller Perill, in the same city. Workshop "Porcelain at contemporary jewellery", in Escola d'Art i Disseny in Tarragona.
Finalist in the International Competition of Contemporary Jewellery "Enjoiat´t 2000", FAD in Barcelona and first prize in "Enjoia't 2002". In 2004, honorary mention "Bienal Regional de Artes Plásticas", in Santa Cruz de Tenerife. In 2011 she was part of the jury of the Prize Enjoia't 2011, "FAD, Barcelona. She has published several articles and she has contributed to publications specializing in jewellery. She has participated in several individual and collective exhibitions in Santa Cruz de Tenerife, Barcelona, Montreal, Munich, London, Detroit and San Francisco.