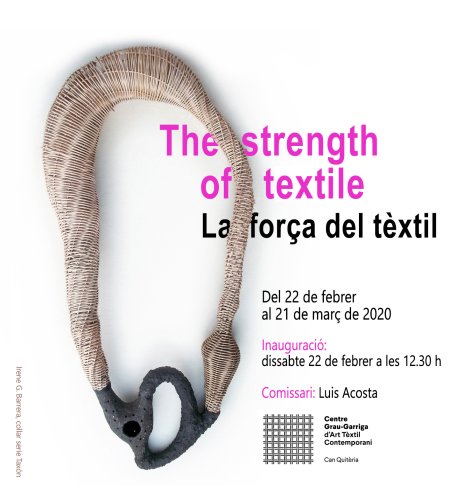 22/02/2020 a 11/05/2020
THE STRENGTH OF THE TEXTILE
The strength of textil, is a collection of Contemporary International Jewelry in which 24 designers participate.
This exhibition is not about the textile jewelry itself, but about something that suggests it, regardless of the material and technique used. It is the ambiguous concept of the textile jewelry where the quality of the textile materials is contrasted with the hardness and coldness of the metal.
The experience of each designer leads him (sometimes unconsciously) to produce an object that is later cataloged into a discipline he had not taken into account.
It is interesting to see, within that experimentation, the application of these materials that are transformed into delicate pieces delivering a unique aesthetic to each design.
Show curated by designer Luis Acosta.
Exhibition in Contex gallery from February 22 to March 21, 2020
Opening: Saturday, February 22 at 12.30.
Parallel activity:

*Meeting point. Guided tour to a small sample of the exhibition The Strength of Textile, relocated to the lobby of the Grau Garriga Center for Contemporary Textile Art. Tuesday, March 10 at 6 p.m. (Pl. De Cal Quiteria, 1, Sant Cugat del Vallès), by Cristina Villar (Context Gallery).
Participants:
Mabel Pena
,
Margo Nelissen
,
Floor Max
,
Carolina Bernachea
,
Agara Aguirre
,
Andrea Barrera Velásquez
,
Angelo Verga
,
Christine Cook
,
Evelyne Alice Bridier
,
Heng Lee
,
Idoia Lizeaga Iturralde
,
Irene G.Barrera
,
Jo Pudelko
,
Karen Gillis
,
Mercedes Carvallo
,
Mónica Pérez
,
Nicole Uurbanus
,
Patricia Gurgel-Segrillo
,
Rachel Reilly
,
Rafael Luis Alvarez
,
Rita Soto
,
Snem Yildirim
,
Shenhav Russo
,
Ye-Jee Lee
Place:
Galeria CONTEXT
Carrer de Viñolas, 8-10 Sant Cugat del Vallès (Bcn)