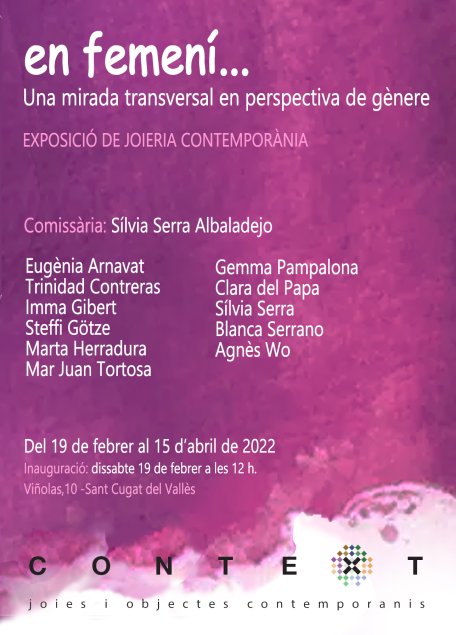 19/02/2022 a 25/04/2022
EN FEMENÍ

Today, identity is an increasingly nuanced concept. A diffuse concept related to personal origins, and also to vital and generational contexts.

The 21st century is a time of identity re-founding where cultural and artistic institutions play a capital role. The social, cultural and artistic changes of this century will mark a turning point in contemporary artistic development due to the incidence of new forms of thought, such as feminism.

Whether as protagonists, creators or audience, women are questioned in the cultural, artistic and social world. Hence the importance of the search from a feminist perspective. The new feminist artistic proposals delve into a vindictive statement around femininity itself, the exaltation of the body and identity self-construction, among other aspects, linked to the position of the female artist in the dominant circuit of art. To this end, it is intended to show the way in which social and cultural changes have an impact on the artistic field, specifically from the jewel.

Denying someone the possibility of expressing themselves in art, making it an individual and always challenging value, is denying them the possibility of being and existing. Art is an end in itself, because it is contemplation and at the same time a medium insofar as it is communication; and it is in this way that it shows its communicative, interpretive, intimate and symbolic power.

Sílvia Serra Albaladejo.
Participants:
Sílvia Serra Albaladejo
,
Blanca Serrano
,
Trinidad Contreras
,
Imma Gibert
,
Gemma Pampalona
,
Eugènia Arnavat
,
Agnès Wo
,
Mar Juan Tortosa
,
Steffi Götze
,
Marta Herradura
,
Clara del Papa
Place:
Galeria CONTEXT
Carrer de Viñolas, 8-10 Sant Cugat del Vallès (Bcn)